Risk Management – the New SupportDesk Solution!
The latest SupportDesk service desk solution from House-on-the-Hill Software: SupportDesk for Risk Management.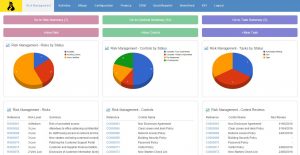 This advanced and intuitive solution enables organisations to maintain a Risk and Control Register, in order to pro-actively identify Risk Level based on business Activities. SupportDesk for Risk Management can also record risk related "Tasks" which reference this register and pull through appropriate Control information. This streamlines the handling of Tasks and ensures that all necessary Risk details are collated.
SupportDesk's Risk Management solution is  centred around an Activity-based Risk analysis whereby the activities of the company are identified within Business Areas, and then a simple Risk model is applied to determine a latent "Risk Level". The Risk Level is based on Likelihood of the Risk occuring, and Impact that any resulting issues will have on the business. Risk Managers can view Risk Dashboards, edit workflows and forms, and run Risk Reports at the touch of a button.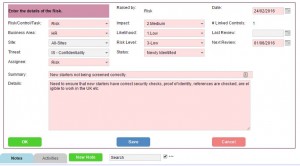 This new Solution has been developed by House-on-the-Hill's Service Management experts with 20+ years of experience under their belts. SupportDesk for Risk Management was introduced in response to the needs of Customers, as well as the needs of the ever-expanding global service desk market.SupportDesk for Risk Management can be combined with existing SupportDesk systems, such as SupportDesk for IT Service Management, or used individually, so that a comprehensive, pro-active Risk and Control Register can keep businesses operations running at optimum level.
Find out more about SupportDesk for Risk Management