Incident Management: Process Focus
SupportDesk from House-on-the-Hill Software enables you to implement the perfect Incident Management procedure for your business. Here's how…
As defined by ITIL, Incident Management is the term given to the activities performed by an organisation which identify, analyse and fix issues, and create procedures for the prevention of future re-ocurrences. The aim of this blog item is to provide a breakdown and discuss the configuration possibilities of SupportDesk that enable you to create the perfect Incident Management environment for your organisation.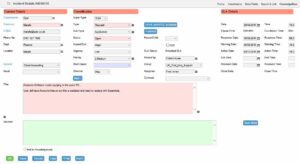 Categorisation
Whether Incidents are logged via phone, email, Twitter or via the self-service portal, an initial step of the Incident management workflow is deciding how an Incident should be categorised. If your helpdesk is external-facing, it may be that you want this decision to be purely internal. As such, SupportDesk's Customer self-service portal enables stripped-down, simple forms to be presented to end-users, so that the categorising process can be performed purely by service desk analysts.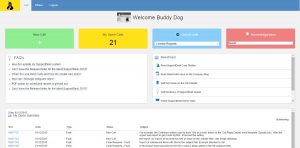 The portal also allows for tickets to be logged by simply clicking a button, meaning that end users do not even need to enter any information at all! This functionality links with the QuickCall template facility, in which common Incident details, such as 'Password Reset' can be pre-populated.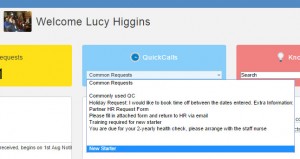 So, once the Incident is raised, service desk agents can analyse the Subject of the Incident to understand how best to categorise the Incident. There are various categorisation options within SupportDesk, all of which can be included as fields on the Incident form, and SupportDesk's drag and drop designer allows for the easy addition/removal of fields.
With 3 tiers of Type categorisation available, some service desks may require streamlined, multi-tier parenting. What this means is that the top tier of 'Super Type' can kick off the categorisation.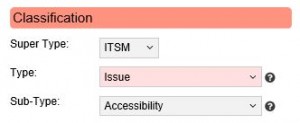 This tier may be defining whether the Incident is 'Hardware' or 'Software' related, or in the case of Enterprise service management, which business area the Incident is relating to. The selection of the Super Type generates a unique list of child Types. Then in the same way, the selection of the Type tier can generate a unique Sub-Type list. This level of categorisation can be made as simple or detailed as needed, and all information captured in the Incident logging process can be reported on, in order to analyse the occurance of specific types of issue.
Status
The Status field on the Incident lets you identify the stage of the call. This could be a simple workflow, with the Incident progressing from Open to Closed with just a few steps in between. Alternatively it could be a detailed workflow with stop-the-clock (on-hold) statuses, triage, and routing to third parties. Statuses can also trigger Sub-Tasks to be performed at various stages, and can force the entry of Notes, in order to keep a full Audit Trail.

SupportDesk's Workflow Engine also provides the functionality for statuses to be automatically escalated after a pre-specified amount of time. For example, a Resolved status can send an email to the Customer to alert that an Incident has been resolved. This email could advise that if the service desk does not hear from them in 3 days, then the Incident will be automatically Closed.

Prioritisation
Defining the Priority of an Incident is also likely to be kept as an internal process, chosen by support analysts. Priorities determine how quickly an Incident needs to be resolved, as well as showing the impact on the organisation. In SupportDesk, priorities work in conjunction with your unique Service Level Agreements, and an Impact and Urgency matrix can be created in order to automatically calculate a Priority, based on the sum of the Impact and Urgency. If this is not required, Priorities can simply be selected on the Incident record, without the Impact and Urgency calculation. The Priority then automatically populates Response, Warning and Action dates. These dates generate automatic breach notifications to assignees and other relevant parties, so that SLA deadlines are never missed.

Category Workboard
A great way to then visualise Incident categorisations with SupportDesk is using the Workboard feature, in which different 'Swimlanes' display the outstanding Incidents based on either Status or Priority. This improves Incident Management visualisation for your team, with drill-down function into individual Incident records from the Workboard.

Assigning Incidents
Routing the Incident to the correct Group or Assignee helps with the speedy resolution of issues, and there are many ways to streamline the assigning process with SupportDesk. Assignees can be manually selected from a dropdown list, and this can be filtered based on Group membership. It is also possible to route Incidents to Assignees automatically based on the Incident categorisation (Super-Type/Type, Sub-Type, Priority), based on the Customer, or even the Product. This means that Incidents can be automatically routed to account managers or Product experts upon creation.

Enhance Communication
So once Incidents are entered into the call handling process, ensuring the best communication with end-users becomes a key factor to providing great customer service and a level of transparency. The self-service portal lets users track the progress of their logged calls, with Service Updates shown on the user dashboard to alert of operational statuses of subscribed services. Emails automatically notify Customers of the progress of calls at various call milestones, such as upon first logging tickets, Change of Assignee or if a Resolution has been found.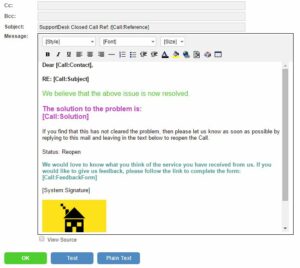 Escalated Incidents trigger notifications to be sent to Agents and managers, in order to alert of approaching SLA breaches, and SupportDesk's email template designer lets you customise all of these email templates in both Plain Text and HTML, with the ability to pull data from the Incident record into the email itself.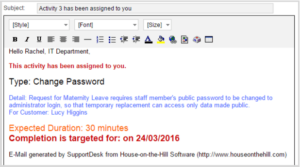 Continual Service Improvement
So how do you use the Incident Management process to your advantage? With a uniquely tailored process in place, you can pull meaningful data using SupportDesk's advanced reporting tool. Reporting on all aspects of your Incident Management process lets you identify the areas that require improvement e.g. if assets need replacing or if training is required, and so enables you to continually improve the service you offer to customers.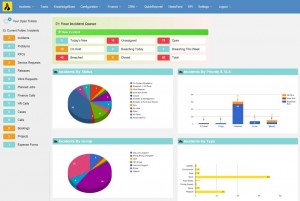 Have What Works for You
SupportDesk is a highly flexible tool, and so the ability to design an Incident Management process that works for your organisation is something that our customers really benefit from: it may be that you need a simple process, with Incidents moving from open to closed with a few SLAs based on Priority. Or you might need a detailed flow with multi-level SLAs based on category, or triggered from impact/urgency calculations. It really is whatever works for you!
If you would like to find out more about SupportDesk's Incident Management functionality, take your free trial or you can contact us for a chat!