Getting the Best From Your Helpdesk Reporting Tool: Reporting Pro-Actively
A good way of deciding how to create the best service desk software configuration for your business, is to work backwards from the service desk reports that you wish to obtain. By making a list of the reports that you want to pull from your system, you can begin to see clearly the fields that will be required for you to capture the necessary data to generate meaningful analysis reports.
Many helpdesk reporting tools, SupportDesk included, are shipped with a number of report templates. Shipped templates tend to be for the most commonly required reports, and will have a pre-set configuration, so that all you need to do is click 'Run'. Therefore, to give an example of working backwards from the desired report outcome, we will take a look at one of these common reports:
'All Incidents By Priority' Report
Service Management and Customer Support systems used for Incident Management tend to function in line with the Service Level Agreements of the organisation. This means that, for example, a ticket that is logged with a 'Low' Priority will be completed within a longer timescale, than a ticket logged with a 'High' Priority.
The Priority recorded on a ticket can depend on certain factors, such as the Impact of the Incident on the organisation, and how Urgently the Incident needs to be resolved. It will be important therefore, for organisations to be able to report on the number of Incidents that have been logged with the various SLA Priorities. If, for example, there is a 90% rate of the highest level Priority being selected on Incidents, then this could indicate a larger problem than the tickets indicate individually.
So, the creation of the 'All Incidents By Priority' report will require the organisation to have outlined and created in the service desk tool, a clear set of Priorities that can be logged against Incident records. With SupportDesk, you can create a unique set of Priorities for each process, and the out-of-the-box SupportDesk ITSM includes an Incident Management configuration based on ITSM best practices.
What Should Reports Reveal?
This example report should of course do what it says on the tin: show the number of Incdents logged with each Priority. However, this information is somewhat redundant if there are no further clues as to the reasons behind each Incident. So, it is important to think about the fields that will need to be displayed on the report too.
The inclusion of fields such as End-User (Customer), Assignee, Raised By, Product, Asset, Type etc. can help you to uncover trends. For example, if there are an abnormally high number of Critical Priority calls, but have all been logged by the same User, then perhaps some training is required as to what constitutes a Critical Priority call. Or perhaps if there are an unusually high number of Critical Priority Incidents logged against a specific Configuration Item or Product, then perhaps this will identify where new equipment is required and savings can be made. Therefore, reports should uncover valuable clues as to how you can pro-actively improve the service you provide, in addition to retrospectively viewing service desk performance.
Trends, Graphs and Performance Packs
Trend reporting can help you to instantly see, using a Line Graph, an overview of how performance is evolving over time.

Your helpdesk reporting tool should include the functionality to display graphs of all kinds. Graphs can help to provide an instant performance overview, especially for managers with little time on their hands to analyse the finer details. With SupportDesk, you can create your own Performance Dashboard, which can include just the reports you need to see.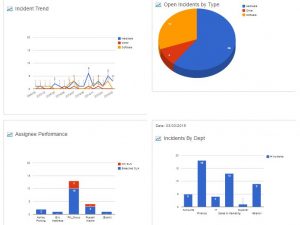 SupportDesk also includes a real-time Key Performance Indicator dashboard. A specific parameter can be selected, such as Open Incidents, or calls per Assignee, and the KPI monitor will display and update the current statistics.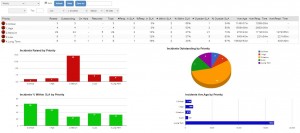 Scheduling reports to be sent to specific parties can also provide a transparent regular update for your Customers, Managers, Investors etc. Using SupportDesk's Workflow Engine, it is possible for 'report packs' to be sent at regular, pre-defined intervals to specific email addresses. This can ensure that everyone can be kept up-to-date with performance, with reports being sent automatically without you needing to repeat the task of creating the report.
If you would like to find out more about Service Desk Reporting, or about SupportDesk features, get in touch and speak to a House-on-the-Hill consultant today.