Features of the helpdesk audit trail.
The helpdesk audit trail is a chronological record of updates, changes and communications that have occured on a ticket, and enables service desk managers, agents and engineers to view the full history of a ticket's progress.
The capture of the helpdesk audit trail can occur both automatically and manually within SupportDesk. Any field changes, such as status changes or priority updates, are logged in the audit trail automatically. The date, time and Author of the audit note are listed, along with details of the update that has ocurred.

Manual notes can also be added to the audit trail, and can be used as internal messaging between agents. The differentiation between manually and automatically added notes is signified by three asterixes in the note text view.
HTML audit trail notes
HTML notes enable images and screenshots to be copied and pasted into the note body. This assists the diagnostic process on helpdesk tickets, as agents and support teams are able to utilise extra visual information as part of the audit trail. Additional HTML functions such as fonts, colours and links can be added to enhance visibility in the note: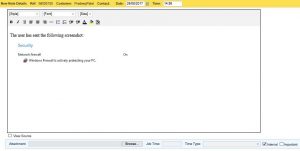 Note details
Whilst in an audit trail note, agents are presented with details of the ticket reference with which the note is associated, the Customer and Contact information, plus the date and time:

Emailing notes 
SupportDesk automatically picks up details about the helpdesk ticket and inserts buttons into the audit trail note that offer the option to email the note details to the Customer or Assignee. Integration with the ticket solution field is also enabled from within the audit trail as the Incident Solution button can be clicked, allowing the note body to be copied straight into the solution field on the original ticket:

Setting flags
The ability to highlight certain notes within the helpdesk audit trail is another useful feature of ticket notes. Selecting the 'Important' tick box adds a red flag to the audit trail note, so that agents viewing the notes trail can be immediately alerted to specific communications: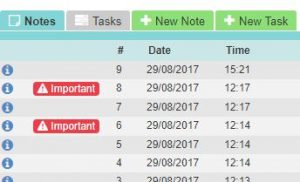 Try SupportDesk for yourself to see the helpdesk audit trail in action!