Drag and Drop Form Builder
SupportDesk Enterprise from House-on-the-Hill is one of the most flexible and customisable service desk software tools available. You are always in control of how your solution functions, with full customisation capabilities including Email Template Designer, Configuration Management Database, Reports Designer/Scheduler and Login Privilege Management. This means that, as well as being great value for money, you can alter how your system works as and when your requirements change, such as adding SLAs, editing automated emails and customising User Priveleges.
Another great feature of SupportDesk service desk software is the Drag and Drop Form Builder. This makes it quick and simple to create personalised service desk forms, which can be unique to service desk processes, and even Users. There is no coding required! All you need to do is drag the required field onto the grid, and SupportDesk does the rest for you. There are several different types of form that you can create:
Call Forms
No matter how many different service desk processes you manage within your system, or business areas you support, it is possible to create specific forms for each type of call that you log through the service desk. The example here shows a possible Equipment Request form. It is possible to mix and match text fields, dropdowns, tick boxes and mandatory and non-mandatory fields. You can create extra fields to ensure that all required information is captured.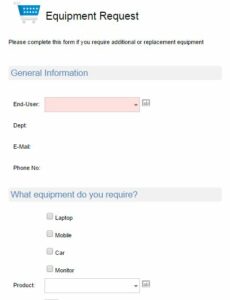 Once created, simply drag and drop the fields that are required onto the grid, and the Forms Designer will build the form as you go.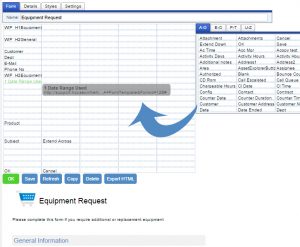 Dashboard Forms
The Dashboard in SupportDesk is the profile page that is first displayed upon logging in. You can create unique, personalised Dashboards for every User in the system, whether they be a Support Agent or a Customer Webguest. Again, there is a drag and drop form builder for this, and you can even create select reports that you have created in the Reports Designer to be displayed on Users' Dashboards.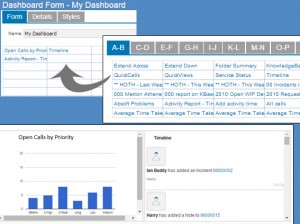 You can then associate the unique Dashboard with individual Logins in SupportDesk, via Login Privilege Management: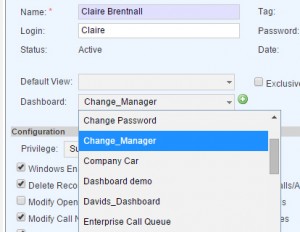 The Dashboard will then display for that particular login:

With SupportDesk's Drag and Drop functionality, it is quick and simple for system administrators to make changes to the look and feel of the system, as well as ensuring that Users only see what they need to see. Ensure accurate data capture with call forms designer, and personalise your system by adding your own logos and widgets. It really is that simple!