Depending on the type of implementation there may be different options as to how users access the system. The most basic is that each user logs into the system with a login and password: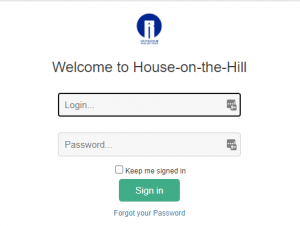 HotH also supports various options for Single Sign On which can be available for both on-site and hosted solutions depending on your infrastructure.
Another consideration for access to HotH systems deployed on-site, is whether the software is to be accessible by customers outside the domain. If this is a requirement then this will have an impact on how the system is installed.
Learn more about this topic by visiting the Logins page.
---
Still haven't found what you're looking for? Contact documentation@houseonthehill.com