Once a ticket has been progressed and a resolution has been found, you will be able to close the ticket.
To close a Ticket either set the Status to Closed, or to Resolved if the ticket is to be closed after a set amount of time. Click OK or Save.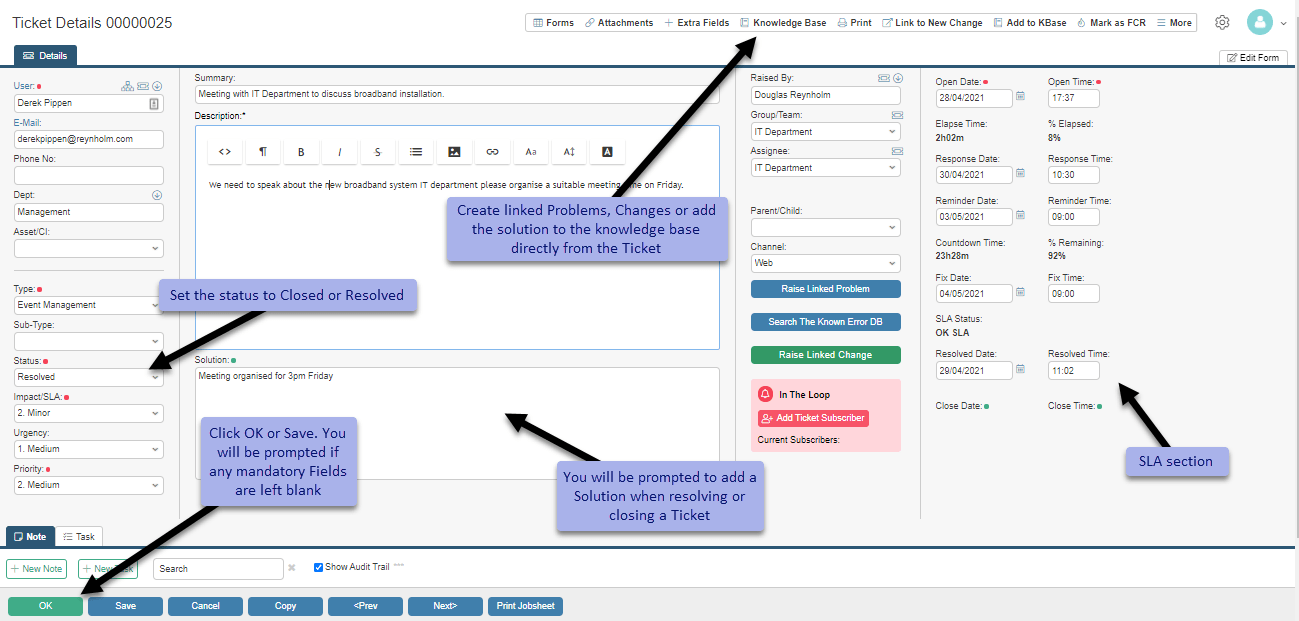 ---
Archiving Closed Tickets
When viewing live Tickets in the Summary screen;
Supervisors can:
Transfer closed Tickets to the archive.
If necessary, restore archived Tickets to live.
End-Users can if allowed:
View archived closed Tickets by going to Summary Options > View Archived 
When moving Tickets to the archive, only Closed Tickets in the current view are transferred. You can use the options on the View menu to filter the Tickets. For example, using Date Range, you could archive last month's closed Tickets:
Before commencing the procedure, HotH asks if you are sure you would like to archive Closed Tickets.
If you are using Folders to compartmentalise your Tickets, then an archive is maintained for each Ticket Folder. Tickets are archived from only the current live Folder to its associated archive Folder.
---
Restoring Closed Tickets
Supervisors can restore closed Tickets from archive to live. First, navigate to the archive via Summary Options > View Archived:

Make sure your view only contains those Tickets you wish to restore and then go to Summary Options and select Restore Closed.

---
Deleting Records
Supervisors can delete archived records by using Summary Options and selecting Delete All in View. Only the records listed in the current view are deleted.

---
Still haven't found what you're looking for? Contact documentation@houseonthehill.com