And how to deal with them.
The helpdesk provides an essential point of contact for your customers to log and track issues and requests, whether by phone, email or via the self-service portal. The helpdesk is the heart of an organisation's service management, and one of the main challenges faced by customer support teams is dealing with high call volumes, while simultaneously maintaining customer satisfaction.
There are of course many reasons as to why call volume can become unusually high: it may be due to factors external to the helpdesk, such as major incidents or recent rollouts of new services within the organisation. However, it is for the commonly occurring incidents and requests, such as 'password reset required' or 'equipment request' that the helpdesk can customise their call management processes, in order to work towards a reduction in ticket volume or logging time. There are several ways in which this can be achieved:
QuickCalls (for helpdesk teams)
SupportDesk's QuickCall feature enables the helpdesk team to build up a portfolio of common call templates, which can have data pre-populated. QuickCalls can be used in conjunction with Forms, meaning that a specific call form can be triggered from the logging of a QuickCall. The advantage of building up a call template list for your helpdesk team is to enable the quick and easy logging of common issues. This can be done at the touch of a button, or by picking from a dropdown list, without the requirement for any data entry.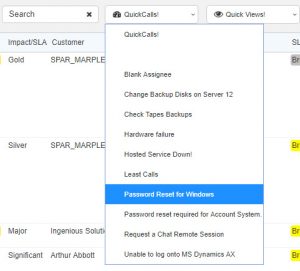 QuickCalls (for customers)
A suite of QuickCalls can also be offered to your customers via the self-service portal, covering common calls across multiple business areas. Clearly labelled buttons display what the call template refers to, and clicking generates the associated call template and form. Data entry can be made as simple or detailed as required, to ensure that just the required information is captured. Upon submitting the ticket, the call will then be automatically entered into the correct work queue.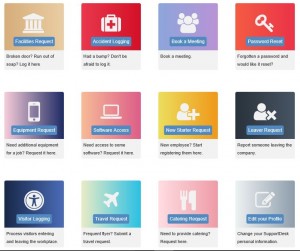 First Contact Resolution
An FCR or First Contact Resolution status can be built into the call workflow. This enables service desk agents to identify when a call has been open and closed in the same instance, for example while on the phone with the customer. By setting the 'FCR' milestone on a status, SupportDesk can report on how many calls are resolved upon first contact, and as a result can identify which call types could potentially be automated or made more efficient.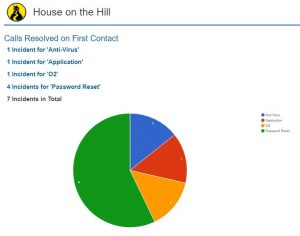 FAQs (Self-Help)
Providing your customers with FAQs and self-help items via the self-service portal can reduce commonly recurring or duplicate calls being logged. A dedicated widget for FAQs can be placed on the web portal, with drill-down links to guides, attachments or demo video URLs. Users can also rate the quality of self-help items, in order to assist helpdesk teams with the continual improvement of services and knowledge management.