Southport College ITSM Tool: SupportDesk ITSM
Overcoming IT hurdles on Red Rum's home turf
Three times winner of the Grand National horse steeplechase, Red Rum, trained on the local seaside sands so it's no surprise that Southport College's ICT department puts the emphasis firmly on speed as well as quality.
When lecturers encounter an IT problem, urgent assistance is just a 'phone call or email away. Teaching staff are treated as a priority by the College's ICT Help Desk which relies on House-on-the-Hill's SupportDesk solution.
"We immediately specify the urgency depending on what the problem is,"

said ICT Manager Diane Finnie.

"So if someone is teaching and can't get a projector, interactive whiteboard, computer or on-line register to work, they become a priority to us because that means students are suffering."
High marks for College Helpdesk
A high percentage of users are lecturers. When they go into a class they want to be sure their equipment works.
"If they've logged a job to be done they also need to know it's being dealt with,"

added Finnie.

"Thanks to House-on-the-Hill they know it's in the system. They have the reassurance that their problem is being actioned and who the allocated technician is. They have the further reassurance that they'll be told once the problem is fixed. The system keeps them fully informed."
Clearing such hurdles is an everyday challenge for Finnie and her team at Southport College which has some 10,000 full and part-time students spread over three sites – the main campus near the resort's railway station, Formby a few miles along the Merseyside coast, and Waterloo on the outskirts of Liverpool. The ICT department's responsibilities also include supporting their Virtual Learning Environment (Waves) which provides Web-based distance learning undertaken at home or in College.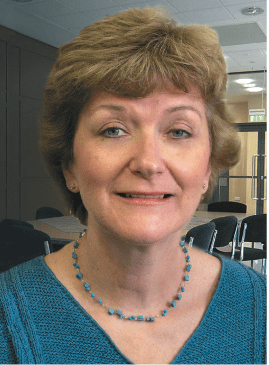 "SupportDesk is a very good product and helps us respond to users quickly and efficiently,"

added ICT Helpdesk Administrator Arun Gambhir.

"Through it we have a full picture of what the job entails and a useful future reference once the call is closed. On the few occasions where we have hit a snag, support from House-on-the-Hill's staff has been first class."
"It's very easy to use, with self-explanatory form-filling,"

he commented.

"The Helpdesk can be hectic, especially in the first few weeks of every new term, so having a tool like this is reassuring for us too."
"The ICT Helpdesk can be extremely busy in term time,"

added Finnie who brought in House-on-the-Hill after positive experience of the tool at her previous job at a government-run teacher training college in Bristol.
In her time at Southport, she has seen a huge growth in student and staff using
ICT equipment with a corresponding increase in the ICT department's workload including having to cope with the advent of wireless connectivity and the constant threat of software viruses and computer hacking.
SupportDesk – A class apart
Incidents are reported via email or 'phone and logged on SupportDesk unless they are fixed there and then. If a problem cannot be resolved instantly it is allocated to one of nine technicians. Equipped with walkie-talkie radios, the technicians have remote access to all computer systems, although a high percentage of calls result in a personal visit to the user.
The most common problems tend to relate to password changes and connectivity issues. There can also be staff development issues and the team offer ICT inductions and hand-holding to make sure everything runs as efficiently as possible.
"It's easy to get confused as some lecturers work part time and may only be in the College for a few hours a week,"

Finnie sympathised.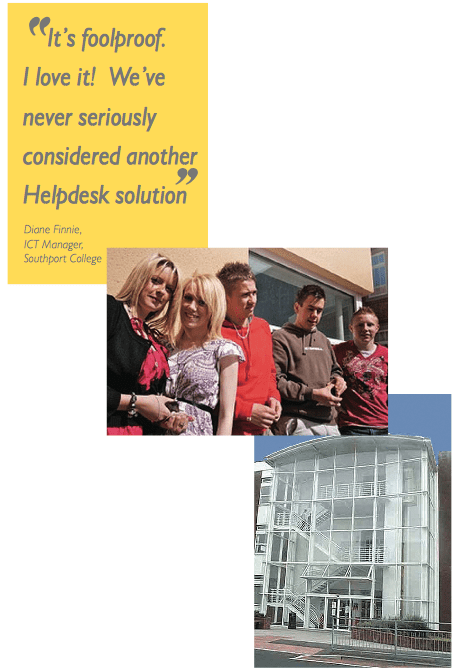 Calls are tracked on SupportDesk, using the product's colour coding system. All calls are responded to immediately with the user automatically receiving an email confirming it is being dealt with and given a unique reference number with the initials of the relevant technician. When the call is closed they again automatically receive an email telling them so. All technicians access their own jobs regularly and as these are prioritised on SupportDesk they can work their way through the job list, providing a prompt and efficient service.
The ICT Helpdesk also uses SupportDesk as a Knowledge Database. If someone has fixed a particular problem, the appropriate information can be shared with future users.
Information can be graphed to show trends whenever senior management request reports.
Reining in lost revenue
In addition, SupportDesk helps make sure students receive the proper allowances and safeguard College funding. Some students receive Education Maintenance Allowances (EMAs) which are based on online registers. Calls relating to any online register issue are logged on SupportDesk.
Underlining SupportDesk's versatility and flexibility, another department which uses the solution is Management Information Systems (MIS). The Learning Skills Council, which is responsible for planning and funding high quality education and training for everyone in England other than those in universities, funds the College according to certain criteria, some of which such as achievements and retention are reported on by staff in MIS' student records section. These staff use House-on-the-Hill as their prioritised 'Jobs done' list.
"We put details of everything we do on SupportDesk,"

said Programmer Allan Morrish.

"Reports we compile from the records database can be on subjects such as where funding comes from, the number and ages of certain groups of students, or monthly attendance figures. SupportDesk provides an audit trail of our work."
Keeping pace with galloping growth
The College's facilities continue to be upgraded, with recent additions including a new sports hall and theatre. This year its refectory is being upgraded and this will include many staff room changes. However, as the demand grows, SupportDesk has kept pace with it.
"Our work gets harder all the time because technology changes so fast. We're driven by suppliers and there are more and more products out there which might not be compatible with one another,"

Finnie said.

"But the product has been very expandable to meet our changing needs. House-on-the-Hill has also added some nice new features which we like."
"House-on-the-Hill's own support team also score very highly with Finnie. They're very good, very receptive, and always come up with ideas,"

she said.

"It's imperative that you have a good Help Desk product,"

she concluded.

"With SupportDesk it's easy to assign jobs. It's foolproof. I love it! We've never seriously considered another Helpdesk solution. As with all applications, we do have some issues with it from time to time, but with SupportDesk the price is right and it works for us."