SupportDesk FM @ The National Gallery.
Picture perfect – How Service Management protects some of the world's top artworks
When it comes to keeping one of the world's great art collections in eye-catching condition, integrated IT and infrastructure Service Management is proving to be a key part of the picture.
Crucially, issues reported via SupportDesk include the conditions under which some of the world's best known artworks are displayed.
The light, temperature and humidity in the Gallery affect the paintings, which range from works of late Medieval and Renaissance Italy to the French Impressionists. Strict controls are therefore in place and any deviation must be reported instantly. Unlike some other museums and galleries, more or less the entire stock of the Gallery is on permanent display.
"The Gallery is widely regarded as a flagship centre for the way paintings should be viewed but the building in which they're located poses challenges,"

said Administration Manager Kieran Sweeney.

"The Victorian structure has grown over the years with the addition of more buildings."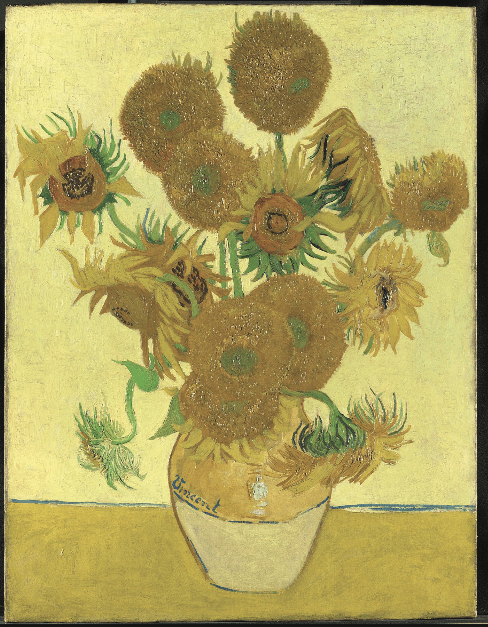 Situated in London's iconic Trafalgar Square, the National Gallery houses the UK's collection of Western European painting from the 13th to the 19th centuries. In 2009 it drew in almost 4.8 million visitors – the second highest number for any tourist attraction in the country.
The building contains over 2,300 works, including Van Gogh's Sunflowers, Turner's Fighting Temeraire, Constable's The Hay Wain, and paintings by Leonardo da Vinci, Rembrandt, Caravaggio, Titian, Vermeer, Goya and Monet.
Behind the scenes, House-on-the-Hill's SupportDesk ITSM tool not only helps staff tackle computer-related problems but also makes sure issues concerning the actual building are resolved quickly and effectively.
The Gallery extended the tool's troubleshooting use to its Buildings Department after the solution proved its worth in IT support.
Turning the Help Desk into an art form
A central Help Desk takes calls from any of the Gallery's 650 staff. SupportDesk is configured in two main folders – one for building issues and the other for IT matters. Calls concerning the building are passed to relevant specialists or contractors and those about IT are dealt with by Information Services Support Manager Sarah Harding and her small team of support officers. Each folder has different, customised fields and functions.
SupportDesk replaced a Facilities Management (FM) tool which had a Help Desk module attached. It was brought in firstly on the IT side and later to deal with infrastructure as the National Gallery decided to make its IT Help Desk solution also the tool to allow rapid response to staff complaints or requests concerning the actual building.
House Rules
"It's a demanding environment,"

Sweeney said.

"These works of art are very fragile and the conditions in which they are kept are critical."
SupportDesk is used to log and track reactive cleaning requests and porterage as well as reporting issues discovered by staff or contractors which might affect the condition or security of the paintings.
The Gallery has a separate standalone software system for planned maintenance.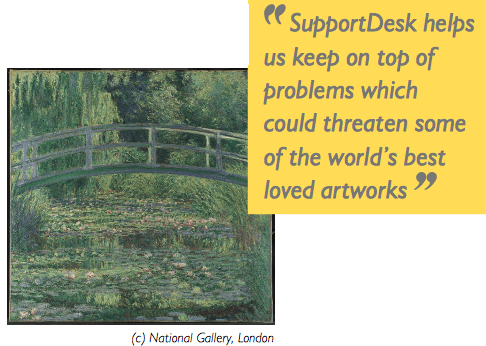 House-on-the-Hill's SupportDesk is effectively a pared down version of those parts of the previous FM system found to be most useful. It covers issues which have been reported and what is being done to fix them.
"For years we had separate FM
systems dealing with
maintenance or breakdowns,"

Sweeney recalled.

"There have been discussions about having the same system. The problem is that maintenance is run by engineers who know what's required and can plan ahead, whereas with breakdowns all people know is that there is a problem."

"We found over a long period of time that there was no way of integrating the two sensibly without having to double up so integrating a reactive infrastructure troubleshooting tool with our IT Service Management system was the logical step."
Framework for the future
The initial decision to buy SupportDesk, after seeing it at a trade show in London, was based largely on cost.
"It was a good competitive price, especially compared with some of the bigger systems on offer,"

Harding said.

"We're quite a small department so didn't need a huge all singing, all dancing system. It was also much more customisable and flexible than we had before."
The bulk of the Gallery's IT systems go largely unnoticed by the almost 5 million visitors who crowd into it each year, free of charge. They are usually aware only of information screens and the interactive multimedia consoles in the Espresso Bar and Sainsbury Wing, opened in 1991 to display the entire early Renaissance collection.
Following completion of the Sainsbury Wing, the Gallery has a total floor area of 46,396 metres squared – equivalent to around six football pitches. It would be big enough to hold over 2,000 London double-decker buses.
Monitoring the masterpieces
Most computer systems support the work of back-of-house staff such as curators and the education department as well as the digital photo library, staff intranet and intruder, fire and smoke alarms.
The main initial challenge for the IT Help Desk was following the progress of calls because staff could not put enough notes on the old system to keep support staff informed of what was going on.
"With SupportDesk someone else can take on the issue and know exactly what has happened to date,"

added Harding who moved to the Gallery after working as a Help Desk officer at the British Museum.
Roughly half the calls taken by the Help Desk are IT-related. Building-related calls can be more complex because they may be an indication of something more serious. Each room in which paintings are displayed has at least one person responsible for security.
In-house contractors, some of whom are based in the building round the clock, have access to the relevant part of SupportDesk and are expected to add notes to update the problem status. Managers specify the deadlines by which the issue should be fixed by the relevant contractor.
Contractors' performance is monitored closely and there are financial penalties for non-compliance with criteria. In the event of a dispute, information on SupportDesk can be vital.
Behind the scenes
Working at the heart of these service management systems supporting such a world-famous Gallery, are Sweeney and Harding art fans?
"All I know about art I learned from here,"

Sweeney confessed.

"You can get a bit blasé being surrounded by these masterpieces but it's surprising how much seeps in. It would be strange not to pick up a lot about art in this job!"
"I'm fascinated by the whole heritage sector,"

said Harding whose first degree was in history.

"You sometimes forget you're in a Gallery and walk blithely past something that's universally known."
What are the main benefits of such an integrated service management system?
"We have the confidence that if and when something goes wrong the response is better than we had previously,"

Sweeney answered.

"There's a big advantage in having a single integrated tool because the two sections are doing similar things."

"It's more logical. We're not asking SupportDesk to do anything it doesn't do. It's now possible to conceive of linking into our own Intranet so people can look into their own calls."
Harding added:

"House-on-the-Hill's own responses are very quick – they're very good at getting back to us with an answer to any query. Unlike some suppliers who are very protective about how their system works, they encourage you to play around with and adjust it."
"We're happy with the product and with the company. We only have to support one system rather than two systems, and it helps us keep on top not just of IT issues but also problems and potential difficulties which could put at risk some of the world's best loved works of art."