Nando's order House-on-the-Hill to grill its IT service and facilities management
Each morning emailed reminders pop up on a service desk in a restaurant complex in North West London to help make sure customers of the UK's fastest growing restaurant can tuck into their favourite chicken dishes.
The desk is a focal point of customer service at Nando's, famous for its PERi-PERi chicken and serving some 900,000 diners a week at more than 235 restaurants under its distinctive red rooster logo around Britain's high streets.
Prompt Service
The pop-up reminders are part of Nando's service management system, notifying operators if connections are working between restaurants and food services company 3663 Logistics which delivers tonnes of chicken and other goods to them each week.
"They're a prompt for us to check connectivity between 3663 and the restaurants and one of a series of preventative measures. This can be crucial for the restaurants and their customers so we keep a watchful eye out to check orders sent out have been received,"
explained Robert Powell, one of the operators at the service desk, located behind a Nando's in Park Royal.
The prompts, set up within House-on-the-Hill's SupportDesk service management software by using its QuickCall facility, are timed to coincide with delivery order schedules.
IT Problems reported by Nando's restaurants all over the country are handled by this service desk, staffed by 6 of the 16 personnel in the company's IT department based at Royal Park.
All staff can log or review calls relating to their restaurant and area managers can see outstanding issues relating to their outlets, using SupportDesk's Web portal. But the desk's responsibilities and the company's use of House-on-the-Hill range far wider than purely technical issues.
Details of each restaurant are stored in a central SQL database held on SupportDesk, covering everything from the number of seats and tills to the days on which food is delivered, opening times, the size of windows and the number of toilets.
The amount of information on the database has been growing almost as fast as chicken dishes flying off Nando's restaurant grills.
Famous Fans
Nando's, which has a Portuguese/Mozambican theme, has come a long way since it was founded in Johannesburg in 1987 by Fernando (hence the name) Duarte and Robert Brozin. It now operates in 28 countries and five continents, and employs 70,000 people. In 2010 it was named by the Sunday Times as the best big UK company to work for and by Advertising Age magazine as one of the world's 30 hottest marketing brands alongside Facebook, IKEA and BMW.
Catering for customers' growing love of spicy ethnic dishes, it is frequented by celebrities like rap and hip-hop stars Dizzee Rascal, Chipmunk, Tinchy Stryder, N-Dubz, Jay-Z and Pixie Lott, footballer David Beckham and TV chat show hostess Oprah Winfrey.
Comedian Ricky Gervais has been photographed there and Twilight movie star Robert Pattinson is reported to be a fan.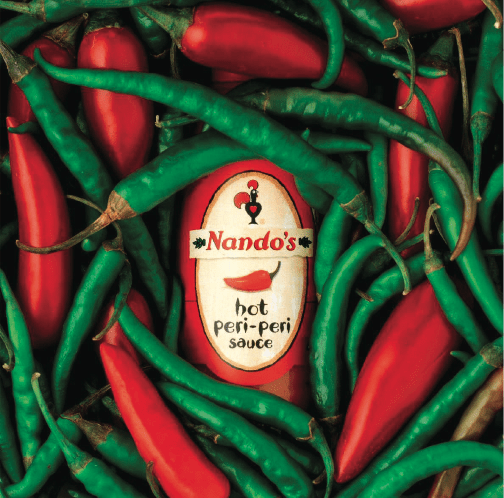 Spoilt for Choice
In addition to IT call handling, Nando's was looking for a system which could manage its hardware and service agreements – and found SupportDesk could do much more besides.
Non-IT issues are logged on SupportDesk too. Every department uses the tool which is also used for facilities management.
"It's employed across the board,"
said Louw, a South African who worked his way up at Nando's after starting off in 1995 cooking chicken over its now famous grills and later helped set up the company's first Intranet.
Managers can build their own reports from raw SupportDesk data.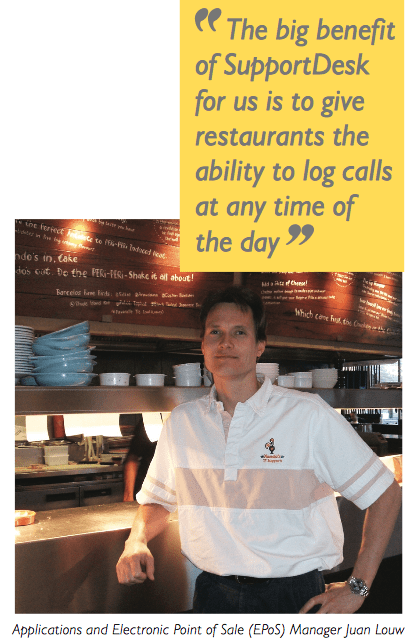 Made to Order
House-on-the-Hill customised SupportDesk for Nando's, initially around the user interface's 'look and feel' by incorporating the red rooster logo. Data segmentation was introduced so information could be viewed only by those who needed to see it.
"The big benefit of SupportDesk for us is to give restaurants the ability to log calls at any time of the day, and for us to be able to view these calls and go through a certain process," said Louw.

"We can go through a certain work flow and it keeps the restaurants informed of where we are. It allows us to escalate problems. We're able to report from it and from there define certain key indicators or service level agreements, even within our own team.  We can review historical calls."

He went on: "The asset management around it is important as well – to see at business planning stages which equipment is in or out of warranty. Its flexibility is a strength."

"And if you consider the cost of a product like that, it's pretty impressive in terms of what it can do."