ITSM for Education Establishments: ELB Select SupportDesk ITSM.
Education authorities prove pass masters in IT Service Management
Northern Ireland's education authorities are giving lessons in improving IT service quality – with high class assistance from House-on-the-Hill.
Raising customer service standards has been one of the main achievements of its five Education and Library Boards (ELBs) whose IT help desks' work includes ensuring adherence to Freedom of Information and personal data protection legislation.
Education and library services in Northern Ireland are provided by five regional Education and Library Boards: North East, Western, Belfast, Southern and South Eastern.
All five ELBs use House-on-the-Hill's SupportDesk solution to support IT services to management and administrative staff.
The North Eastern Education and Library Board
Before moving to House-on-the-Hill, the North Eastern Education and Library Board (NEELB), used a product which management and staff found inflexible and difficult to manipulate.
"When staff dislike something they won't use it properly,"

remarked Head of Corporate Services Pauline Martin.

"We needed a statistical base, partly to show the volumes of work we were dealing with. We also need to know that calls are actually being dealt with and not falling through the net."

She added:

"At that point we felt the need to be accountable for the service we were running. We knew we had to demonstrate our worth to the organisation."
According to Deputy ICT Manager Pearse Kilpatrick, SupportDesk's flexibility was the key factor in choosing it. Staff particularly liked the QuickCall feature for tasks such as changing passwords.
"Price was important too,"

he went on.

"Because we had multiple sites, it was assumed you had to be a huge enterprise and needed a huge piece of expensive, rigid software. House-on-the-Hill was also a smaller company and we felt it would be more approachable."

"I remember the guys (from House-on-the-Hill) coming over and they were just great,"

Pauline Martin recalled.

"They just sat down and seemed very comfortable with the product and the people."

"The price was undoubtedly a big factor. There are lots of Help Desk products out there. We have two major sites so needed something we could share. For its price House-on-the-Hill seemed very good value."
The Department handles around 15,000 calls a year from some 700 education managers and administrative staff in the main sites and 20 out centres.
Customer service – A class act!
One of NEELB's ICT department's major achievements has been to introduce customer service standards following consultation with customers. The Help Desk provides the information to report to users on adherence to those standards which were initially based on the department's own internal Service Level Agreements (SLAs).
"We wouldn't be able to implement these standards if we didn't have House-on-the-Hill to measure them because the administrative effort in doing it ourselves would just be too great," she said.
Managers believe the standards have made a significant contribution to the Board winning a quality award based on the prestigious European Federation of Quality Management model.
Using House-on-the-Hill's SLA module, managers can compare month-by-month how well the department is performing on issues such as server uptime.

"It's a very good performance monitoring and management system,"

Pearse stated.
What are the solution's benefits for end users?
"They have the confidence that if they place a help desk call it can't be forgotten whereas if it's on a yellow Post-it note it can end up in the bin,"

Pauline answered.

"They also have the confidence that even if it's a minor call it will eventually escalate and become a problem and get dealt with."

"I want people to value our IT. House-on-the-Hill helps me to do it,"

she went on.

"We can show top management that IT is not sitting still."
How are House-on-the-Hill to deal with?
"When you call them up you deal with people who know the software and the problems," Pearse responded. "You get direct answers. With most other suppliers you call up and it becomes immediately obvious that they're just answering the 'phone."
The Southern Education and Library Board
At the Southern Education and Library Board (SELB), which has its headquarters in Armagh, House-on-the-Hill replaced a manual call logging database.
Its introduction coincided with a restructuring of the IT department which took over additional responsibility for information management.
The 16-strong department deals with some 850 users of more than 1,000 devices on the network. Around 300 staff work in the Armagh offices with up to 20 other centres on the network and further centres that communicate remotely.
Calls into the Armagh office – mostly related to office support – are assigned to the appropriate section. As with their North Eastern counterparts.
The Office Support section also handles IT equipment purchasing, with orders logged on SupportDesk and treated as an Open Call prior to delivery to ensure documentation has been completed.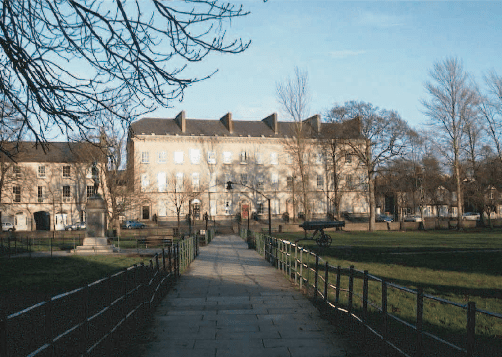 Educating the user
"From an administrative point of view … we're trying to educate the users,"

said Corporate IS Manager Mike Donaghy.

" People will come in with their laptop and expect it to be fixed there and then. It's hard to eradicate that but House-on-the-Hill helps us to educate them by pointing out that there is a list of jobs with technicians allocated. It makes them aware they're in a queue."

"A benefit for me is being able to keep track of the work that the teams are doing. It can be qualitative as well as quantative. It helps me appreciate the issues they're facing."

Wendy Rowland, Office Support team leader, added:

"We find SupportDesk useful because it's an orderly way of dealing with calls. If a call becomes urgent or needs to be escalated you can see clearly what other jobs have been logged, organise work around it and prioritise. I also know which jobs are being done in future and by whom. If someone is going to a job in, say, Newry they can see there are maybe two or three jobs there and co-ordinate them. It helps manage resources."

In Applications, whose responsibilities include payroll and human resources issues, team leader Maria McCarter finds the product

"helps me manage what's going on and keep an eye on what jobs are going through."

SupportDesk's coloured coded 'traffic lights' flag up issues which are, or are about to become, critical.
Freeing up the information flow
One of the more unusual uses of House-on-the-Hill is to log and track requests from the public, journalists, parliamentarians and staff under Freedom of Information and data protection legislation, providing an accurate at-a-glance reference.
The department has 40 working days to respond to data protection requests and 20 working days to answer Freedom of Information inquiries.
"When we started out with House-on-the-Hill we weren't dealing with Freedom of Information," Mike Donaghy said. "But we found it was an excellent application for that purpose because it gives you the time framework and status. If we hadn't had House-on-the-Hill we'd have needed to get something else."
What do users get out of SupportDesk?
"They get a response when they make a call,"

Mike answered.

"They know it's being dealt with and who's dealing with it. They can monitor where it is. That provides a degree of reassurance they otherwise might not have. They know their problem has not disappeared down a big black hole."

Wendy added:

"When a job is closed they know what the solution was. The next time round that can help solve a similar problem. They can learn from the whole experience. That can be a benefit to us too."