Mobile 'phone firm gets right answer for customer support desk software
Based just down the road from the world-famous Elstree film studios, it's no surprise that staff at mobile distribution company Avenir Telecom take a particularly keen interest in what appears on their screens.
New service desk software is allowing the UK's biggest business-to-business distributor that works with all five networks to improve relationships with customers – and minimise any dramas.
The Company
Part of a major European telecoms multinational with over 2,000 employees working in eight operations worldwide, Avenir needed a customer support product to cope with rapid growth in customers and staff
Avenir's head of services Toby Wickenden was tasked with the challenge of finding a system that could deliver against this and believed that House-on-the-Hill's SupportDesk CSM for Customer Service and Support provided the right solution.
"Avenir had grown in 10 years from being a small family-owned business to being acquired by a big multinational distributor. As a result of this, and our progressive approach to leading market changes, our customer base had grown exponentially,"

Wickenden explained.

"There had been a lot of really positive changes in our position in the market and we needed the technology to match our new size."
Each week the office at Borehamwood in Hertfordshire – a few hundred yards from Elstree studios where productions have included the Indiana Jones and Star Wars movies and the Big Brother and Who Wants to be a Millionaire? TV series – handles about 1,700 phone calls and some 1,000 emails. For every call received it makes an average of two calls to the five networks with which it has trading relationships: Vodafone, 02, Orange, T-Mobile and 3.
Ringing the Changes
"We needed greater visibility and to achieve that we needed a management tool that showed us what work we had in hand. We needed to see on our PC screens how we are delivering against Service Level Agreements (SLAs), what work should be prioritised, and the ability to identify where work should be allocated,"

Wickenden commented.
Avenir's clients are companies which supply mobile phones and complete mobile solutions to businesses – it does not deal with individual consumer mobile 'phone customers. It has an active client base of around 700 companies, with hundreds of thousands of end-users.
Wickenden was appointed by Avenir to utilise his significant experience which includes over 12 years experience in call centres and customer service departments, mainly in the technology and finance fields.
"Although the mobile 'phone industry itself has not always used cutting edge technology within internal operations there was no reason why Avenir couldn't. We went looking for a service desk solution that would take Avenir and its customers to the next level in terms of efficiency and performance,"

he commented.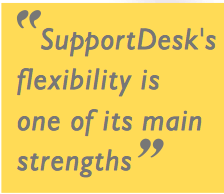 The solution was … House-on-the-Hill
Avenir wanted to put in place a sophisticated customer support call monitoring and tracking system.
"Given the lack of an advanced solution, things were handled incredibly well before,"

Wickenden said.

"But then the company changed greatly in size with a 50% increase in staff during a 15 month period as part of its continued growth."
To respond to its changing needs, the company opted for Manchester-based House-on-the-Hill's SupportDesk CSM solution, which is based on the IT Infrastructure Library (ITIL), internationally accepted guidelines for IT Service Management.
A Clearer View
"In a nutshell, from a technical point of view our requirements were greater visibility, better client information and the ability to categorise the type of calls which were coming through,"

Wickenden said. Improved information means the overall business situation and day-to-day issues are now far more visible to management and staff.
The company needed to categorise the type of call and upload thousands of tariffs. House-on-the-Hill simplified this complex procedure. For instance, by selecting Vodafone business as a category the system only displays the specific Vodafone business tariff.
"I can't stress how important that flexibility is," Wickenden commented. "SupportDesk's flexibility is one of its main strengths."
The company has various Service Level Agreements with the networks – for instance obliging it to connect a new handset within between two and 24 hours. With CSS' SLA module users can analyse service level performance by helpdesk staff, consolidate call and user performance across multiple folders, compare call performance over different timescales, schedule 'QuickCalls' for planned preventative maintenance, and schedule helpdesk reports to run at pre-defined intervals.
Support Desk Software for CSS also interfaces to OGL, Avenir's primary in-house computer system, so any new clients are automatically added to SupportDesk.
Making Repeat Business Personal
Callers to Avenir are not one-time callers but long-term clients. The odds of a worker in a standard call centre speaking twice to the same person can be tiny. At Avenir it happens all the time and is an essential part of the positive relationships it sustains.
"We deal with people who will call five or six times a week and thanks to SupportDesk we can profile them. That's a real advantage of the system,"

Wickenden said.
Avenir staff can populate their database with clients' personal information such as birthdays and their favourite music and soccer teams as they build relationships through talking to clients.
Bigger isn't necessarily better
Although it has an excellent track record since it was set up in 1993, House-on-the-Hill is still a relatively small Service Management software supplier, but for Avenir that turned out to be a big plus.
Returning to the issue of flexibility, Wickenden praised the provider's speedy response to requests for customisation.
"When we need something else to happen, House-on-the-Hill say it'll be in the next release. They've never told us: 'Well, it just doesn't do that!'"

"House-on-the-Hill really have been superb,"

Wickenden stated, adding that initial implementation was helped by Avenir having done a thorough job of preparing its own documentation.

"We've had a lot of customisation done and there will be a lot more on the way as part of the continual investment in our infrastructure. As we use the system more we realise it can do more and we want it to do so. We're able to develop it that way. I see the relationship with House-on-the-Hill evolving further over the next year or two, definitely."
The most competitive solution out there
SupportDesk CSS is well known in the industry as a particularly good value for money solution, so how big a role did price play in Avenir's choice of tool?
"Because I was specific in what I wanted and had a free rein it probably didn't make much difference in this case but SupportDesk is still price-wise about the most competitive solution out there," Wickenden replied.
How would he sum up the benefits which the solution brings to the business?
We can get down to business right away
"It improves the quality of the contact we have with our clients and the overall efficiency of operations for Avenir, our customers and the networks," he answered. "That's the nub."

"My managers and supervisors can see how many outstanding calls we've got. The tool will flag these up and say 'This has been sat here for too long.' If a 'phone is not connected in 24 hours we're aware of it. It allows us to pre-empt any problems and we can then tell our client: 'There was a problem but we've fixed it.' That's the message your client wants to hear! It allows us to be a lot more pro-active. Staff are very happy with the system. It makes their life easier."

"We're not having to ask clients basic questions. If you're dealing with repeat business like we are that is really important. The time spent communicating is not just repeating the same information. We can get down to business right away."