Availability Management
Availability Management lets you provide the best support to your customers and staff-
Availability Management functionality in SupportDesk enables you to keep track of which members of your team are available to provide support to your customers.
With this function switched on, it is possible to see at-a-glance if a service desk agent is on holiday, is currently logged into the service desk (online), and how many Open calls the agent currently has assigned to them:-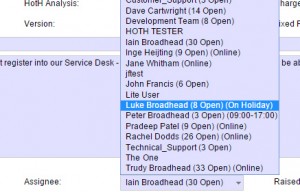 Availability management means that you can speed up call reslolutions, ensuring that calls are not sitting in the work queues of agents who may not even currently be at work!
With SupportDesk, it is also possible to tag a service desk agent as 'Unavailable', which removes that login compeltely from the Assignee dropdown, until the agent is then changed back to being 'Available'.
The holiday entry within SupportDesk's availability management means that you can plan your service desk support well in advance, as soon as you know what time your team members are hoping to take off. It is possible to enter as many holidays as required against an agent's login details, and the 'On Holiday' message will only appear on the entered dates, being removed automatically once their holiday period has ended.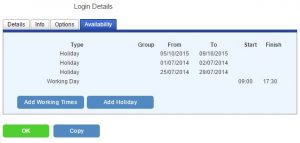 This area also allows you to enter the Working Hours of individuals. This is a great tool for businesses with flexi-time and part-time staff. The working hours of service desk agents also appear in the Assignee dropdown, so that you can see who is available until when:

Want to know more? Please get in touch !
Don't forget to check us out on Twitter.